After the invention of airplanes, but before the invention of Radar, there were a lot of interesting ways to detect incoming aircraft.
It is generally known as "Acoustic Location", and it's fascinating. One enthusiast has made an interesting photo compilation of early attempts at the practice.
http://www.douglas-self.com/MUSEUM/COMMS/ear/ear.htm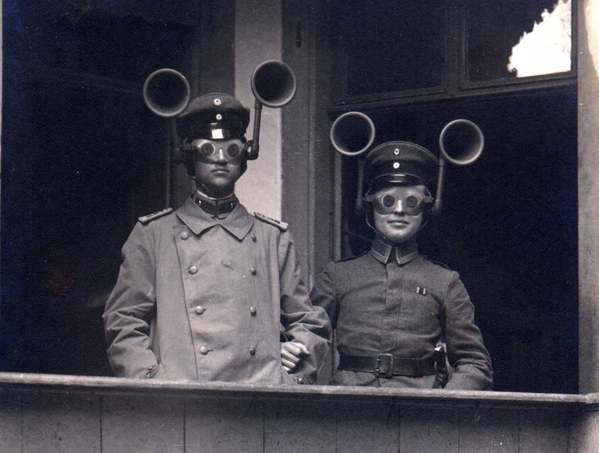 German sound location: 1917.
This fascinating photograph shows a junior officer and an NCO from an unidentified Feldartillerie regiment wearing combined acoustic/optical locating apparatus. This is puzzling because in Germany the anti-aircraft role was performed by the Air Service, not the artillery. The small-aperture goggles were apparently set so that when the sound was located by turning the head, the aircraft would be visible.

Whether it was usual for officers and NCOs to stand arm-in arm I do not know, but it seems unlikely.
I wonder what would happen if people wearing these sound-magnifiers encountered a really loud event. Probably serious hearing damage, I bet.